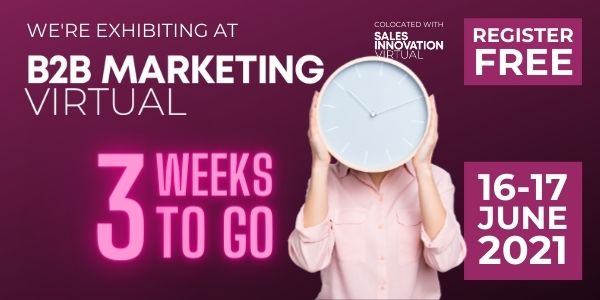 By Cheryl Goldsmith
SCS Marketing & PR is delighted to be taking part in the B2B Marketing & Sales Innovation Virtual Show 2021 on June 16-17.
The prestigious event which brings together the brightest minds in marketing, attracted around 15,000 visitors to its last show at ExCel, London and expects to welcome many more attendees virtually, this June.
The event having run for several years face-to-face is putting its digital knowledge to good use and launching a large-scale, highly anticipated, virtual event.
Across both days, attendees will be treated to an incredible depth of information through the impressive line-up of over 100 world-class speakers. Each seminar has an industry-relevant focus and will tackle the pressing challenges most likely to be faced by marketers over the coming 12 months.
Visitors on the hunt for the latest information on all aspects of the marketing sector, will be able to contact agencies directly through their profile sections and book meeting appointments. Around 68 per cent expected to attend the event, will be budget decision makers for their respective companies.
The last instalment of the show saw more sellers connected with more buyers than ever before, which is just one of the reasons why so many delegates and exhibitors will be joining forces once more for this year's event – and we can't wait!
Tickets
Register to join the event at https://hubs.la/H0MwpMr0. SCS will be sharing our virtual details in the next couple of week. If you would like to book a meeting in advance, contact caroline@scsmarketingandpr.co.uk
About Us
SCS Marketing & PR has grown from a dynamic start-up agency in 2011 to a thriving organisation which now looks after the digital marketing (including SEO and Social Media) and PR interests of national and international businesses at home and overseas. SCS sets itself apart from other agencies in our field as it has access to the expertise and ideas of a team of fully qualified digital marketers and PR professionals – some with careers in journalism on a national scale. On behalf of its discerning clients, SCS are persistent, demanding and tenacious and this approach secures its clients the most column inches in PR and a far reaching and long-lasting SEO digital footprint, while achieving the most effective results on social media platforms.
For more information about the services SCS provides, contact 01252 621293 or email the team at info@scsmarketingandpr.co.uk