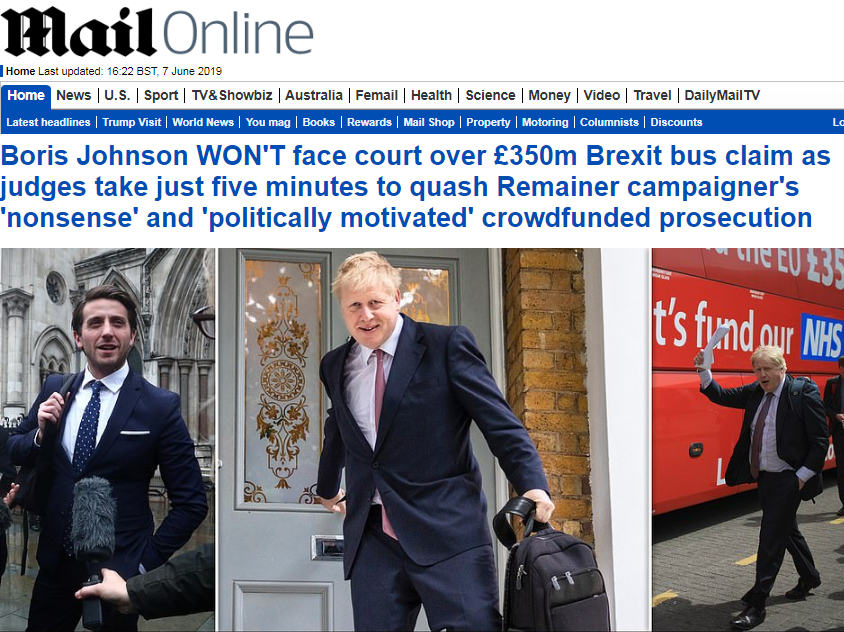 By Jennifer Clarke
The Daily Mail – one of the largest newspaper websites in the world – lost half of its organic traffic following the latest Google algorithm update, last week, but why?
Jesus Mendez, SEO Director for the Mail, revealed the 50 per cent drop in a post in a Google Search Console forum which is significant as it is extremely rare for a such a large publisher to publicly talk about losing a substantial amount of traffic in this way.
Google pre-announced the June 3 algorithm update the day before it was released, officially naming it the June 2019 Core Update. Danny Sullivan, the Google Search Liaison, said there was 'nothing special or particularly big' about the update and it was the 'usual type of core update that we regularly do'.
Sullivan said the search engine wanted to be more 'proactive' in alerting site owners and SEO agencies about algorithm updates 'rather than people scratching their heads after-the-fact and asking.. hmm?'.
However, the Mail were clearly impacted by the second broad core algorithm update to be released by the search engine in three months. Mendez confirmed: "The day after the broad core algorithm update (June 3rd) we saw a massive drop in Search traffic from Google (lost 50% of daily traffic)."
Disappeared
He asked in another post: "Further, on June 2nd we saw a blip for a few hours when our Google Bot traffic almost disappeared, before returning again. Could possibly be related?"
Mendez stated the impact of the June 2019 Core Update was 'weird, because the UK is our home region and historical drops have always been much more prominent in the US'.
A spokesperson for the Daily Mail confirmed that Mendez, who is based in the company's US office in New York, was the author of the post and that company – and Google – remain 'baffled' as to why its site's traffic should suffer from the latest update.
"We have been working with Google to figure out what is going on, but the people we are speaking to there, are as baffled as we are," the spokesperson told Press Gazette. "But they assure us the Mail has not been specifically targeted and we are working together constructively to figure out what is happening. It will take several more days for the core update to take full effect so we will have to wait to see how it settles down."
'Frustrating'
The spokesperson said the loss of traffic was 'frustrating' but 'negligible' as it was only its 'non-brand traffic' which had been affected as the Mail makes most of its money from direct traffic to its home pages. Its apps had also remained unaffected.
The SEO community has been speculating on why the Daily Mail has been impacted by this latest algorithm update so fiercely. It has been suggested that 'left leaning' Google is penalising the Mail for its 'right wing' views, but this seems highly unlikely. Google is not known to have ever decreased a site's rankings based on its political views. The search engine's complex algorithms are not known to be capable of reducing a site's online visibility because it is favours Theresa May over Jeremy Corbyn, for example.
The Daily Mail are also said to be clamping down on user comments – even banning some users, but again, this is not significant enough to cause drop in organic traffic. Any site is entitled to delete a comment or ban a user if it wishes.
The Mail were clearly keen to publicly state it had not been 'targeted' by Google and open discussions with the search engine so it is far likely to be a technical SEO issue which is affecting the site's performance. Many SEOs complained that the site was slow to load, the content was of poor quality and it was 'bloated with pop-up ads'.
Google does not appear to be penalising the Mail algorithmically or through a penalty because of dubious links where the publisher could be allowing paid advertisiers to insert embedded links into content, for example. Any site would be overjoyed by a link to a site as high authority as the Mail. However, a scan of some of the Mail's stories shows that if links have been placed and aimed at third party sites, these have been assigned with the nofollow attribute, which means they will be pass no 'juice'.
Standards
Both the March 2019 Core Update and June 2019 Core Update are known to have targeted YMYL sites – these are defined as 'Your Money or Your Life' sites – and Google has incredibly high page quality rating standards for these types of articles to protect users from low quality content that could have a potential negative impact on a person's life, income or happiness. Typically, the Mail does run lots of stories which may be interpreted as offering medical advice which may not be deemed to be balanced or adequately supported by evidence.
However, the loss of organic traffic to the Mail's site could, of course, be something as simple as an indexing issue which could be easily discovered in Search Engine Console, a back-end problem or content management system bug. Some site owners have welcomed a high domain authority site such as the Mail being hit by Google rather than the smaller less trusted sites, but it seems inconceivable that a publisher of this size would not be capable of fixing the issue and restoring its non-brand organic traffic.
But, it does also highlight to all businesses that even the biggest sites can be hit and that sticking to best practice SEO is essential to keeping rankings and maintaining high levels of organic traffic to drive sales.
If your site has been affected negatively by the 'June 2019 Core Update' contact the SEO team at SCS Marketing & PR for more information on 01252 621293 or email info@scsmarketingandpr.co.uk.