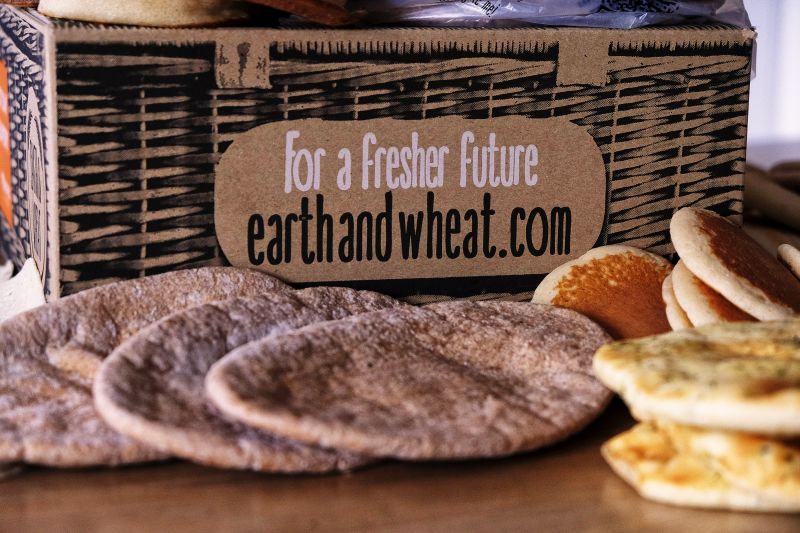 Client: Earth & Wheat
Service: Public Relations (PR) & Social Media Influencer Programme
Background: Earth & Wheat is a new sub-brand of Signature Flatbreads (UK) Limited and the company was looking for a PR agency to handle media relations prior to its scheduled launch in March, 2021.
The largest manufacturer of flatbreads in the United Kingdom was about to embark on something completely new by launching the world's first 'wonky bread' subscription service in order to reduce food waste and help 'save the planet one box at a time'.
The aim of Earth & Wheat is to 'rescue' ultra-fresh baked goods at the 'point of production' from bakeries which would have otherwise been binned due to strict shop standards because of their odd shape or size or 'wonky' appearance. Customers sign up to a weekly, fortnightly, three-weekly or monthly subscription and receive their fresh bread box straight to their door, with free next-day delivery.
The Challenge: Earth & Wheat was a completely new concept and idea and had never been trialled in the UK or indeed globally before so this was a true world-first. The popularity of food subscription boxes in recent years gave Signature Flatbreads (UK) Limited confidence that Earth & Wheat would be successful and popular amongst consumers. However, it needed a PR agency to handle the launch of this brand and ongoing public relations with the media which would raise awareness about Earth & Wheat and its fight to reduce food waste.
The initial challenge focused on two key areas which were educating and attracting consumers to the new Earth & Wheat brand and its mission, and also raising awareness in the baking industry; Earth & Wheat's aim is to start onboarding new bakeries to join its 'mission' after a successful proof of concept.
The Solution: SCS Marketing & PR created a comprehensive B2C & B2B PR strategy for Earth & Wheat and was also tasked with handling all print and online media buying for the new brand. Using its PR storytelling skills and experience, as well as its extensive contacts network, SCS has gained national media coverage, including in newspapers, on radio and TV, to a large B2C audience, and it has also secured comprehensive column inches in the baking industry and regular commentary in leading B2B food and drink titles including The Grocer. SCS also leads a highly successful influencer marketing programme for Earth & Wheat on Instagram with a reach of over four million to date. As well as reaching audiences for ongoing campaigns by producing engaging and 'newsworthy' content, SCS supported with the launch of Earth & Wheat's second product, its new vegan broken biscuit box in late 2021.
The Results: In Earth & Wheat's first full calendar year, SCS gained the brand more than £75,000 in earned media coverage based on Advertising Value Equivalency (AVE) figures and the brand has become highly-recognised amongst both consumers, and the baking industry. Within that 12 months, Earth & Wheat has 'rescued' over 500 tonnes of bread and also donated over 150,000 meals to food charities, and has huge expansion plans for 2022 and beyond.
James Eid, Founder of Earth & Wheat, said: "SCS Marketing and PR have played an important role in the launch and ongoing press marketing for Earth & Wheat. We work collaboratively and the SCS team is professional, quick, agile, supportive and hard working. SCS took the time to fully understand what we are trying to accomplish here at Earth & Wheat, and the results from SCS have been impressive."
If you would like to find out more about how SCS Marketing & PR can help develop your PR, we would love to hear from you. Please complete the contact form or call us today on 01252 621293.