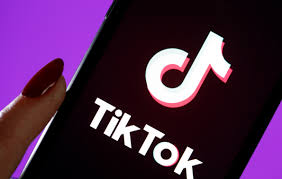 By Cheryl Goldsmith
What is TikTok?
TikTok is actually a refresh of a previously popular tween/teen platform, 'Musical.ly' known for its karaoke video offering. It's a lip-syncing, video-sharing app that teens and other young adults use to make their friends laugh. Acquired by a Chinese company, ByteDance for around 1 billion US dollars in 2017, the company hope to use the buy-out and subsequent rebrand to conquer the US market.
In the last two years TikTok has experienced a massive rise in popularity and has taken the online world and its younger generation user base of 16-24 yr olds by storm as the most downloaded app from Apple's App Store in 2018. It now has 500 million users worldwide, engaging with the ability to upload short-form mobile videos. Just like when Twitter took over as the snappier alternative to Facebook, TikTok is doing this in video form. It's billed as a social media platform where you show off your 'real' side, so without quite the finesse and stylisation of Instagram, if that turned everyone into a photographer, TikTok wants to turn everyone into videographers.
Why is TikTok one to watch?
TikTok's rapid growth has been impressive enough for Facebook to sit up and take notice. Witnessing the whopping 500 million global users, Facebook launched a similar application, Lasso, to counter the massive growth of its rival. However, take up has been far slower and it's unlikely that they will regain through this the masses that are already TikTok immersed.
TikTok is hugely popular with the youth (predominantly teen) audience, the type that have grown up with a presence on social media and are well versed in sharing short videos amongst their peers. As a platform TikTok continues to target youth through their marketing, with ads everywhere on YouTube, Facebook and Google. Market penetration is key and TikTok has clearly staked its claim to the top with current aims seem to be focused on this rather than monetising at this point. Once at the top, of course then is the point at which TikTok's own marketing efforts could change and the drive to engage investment in the platform will become greater.
One of the things expected to keep Tik Tok ahead of the rest in the niche is their coveted research lab which is duped 'AI Lab.' They claim to be experts in a number of current developments in technology, namely Natural Language Processing (NLP), Machine Learning and even Computer Vision. This too bodes well for ongoing future growth, TikTok's advanced artificial intelligence understands what the user wants to see and then gives it to them in a very long list.
Is TikTok relevant to me and my business?
Well, if your business or brand targets 16-24 year olds, then you can't afford not to know about it. TikTok can introduce your business or product to a huge audience and has recently introduced opportunities for businesses to advertise through the platform. All you need to crack is how to create cost effective short format video content that can genuinely appeal to this group.
If you want to venture into this as a new social media platform however, as with any others, you need to know what you're doing. Study the platform and the content that does a good job and prepare to be creative in order to find a way to fit naturally into its culture. Whilst you don't need to create highly polished videos being authentic is key. A light-hearted video that shows off your products will serve you better than a failed attempt at creating a viral meme. TikTok is all about fun and visual appealing content, not serious sales pitches. Tik Tok's goal is to offer a self service ad platform which allows for tight demographic targeting, just as you might find on Facebook and Twitter.
Before you jump straight in though, be sure that the audience you're after is active on TikTok in sufficient numbers. Will you be able to show that your activity will deliver business results? Are you the type of brand that audiences would expect to be doing something new and different?
3 Ways to make an impact on TikTok
Many youth brands have already ventured onto TikTok, particularly those based in the US and China and European brands are likely to be following suit in the near future. Here is how they have made it work for them!
A hashtag challenge
One of the ways to do so is through creating a hashtag challenge.  This is where a brand encourages TikTok users to create or recreate content and add your branded hashtag to it. For example, the brand Guess was one of the first companies to launch a hashtag challenge. They encouraged TikTok users to film themselves wearing Guess' new denim line with the hashtag #InMyDenim. These challenges achieve a double whammy in marketing terms, they not only promote your business and get it noticed, but also drives engagement and interaction amongst the target audience. Chipotle's #GuacDance campaign was TikTok's highest-performing branded challenge in the U.S. The promotion resulted in Chipotle's biggest guacamole day ever, with more than 800,000 sides of the condiment served. https://www.mobilemarketer.com/news/chipotle-smashes-tiktok-records-with-guacdance-challenge/560102/
Seek out the influencers
TikTok specific influencers aren't as huge (or as costly) yet but they soon will be. Working with them can widen your reach across the platform. TikTok's audience will not embrace content that looks like traditional advertising, which is where working with influencers is so powerful. An influencer whose audience matches that of your business can be found through searching bios on the platform, or through checking out mentions of other brands.
TikTok ads
Only recently TikTok introduced additional advertising opportunities making it of interest to business. As well as the hashtag challenge route, either getting your own to go viral or using promoted hashtags, brands can utilise Infeed Native Content, similar to Snapchat or Instagram story ads, these support features such as website click thrus or app downloads.
For the more ambitious, Brand Takeovers allow brands to take over Tik Tok for the day. This provides the opportunity to create images, GIFs and videos containing embedded links to landing pages or to hashtag challenges.
Sponsored lenses; like the Snapchat 2D and 3D lenses for faces and photos are also offered by TikTok, so if your business or brand could make an engaging impact this way then this could be a straightforward route in.
There is a lot of investment in TikTok and we highly recommend checking out the app for yourself or if you would like to talk it through with one of our online experts, please do get in touch with us on 01252 621293 or email info@scsmarketingandpr.co.uk.