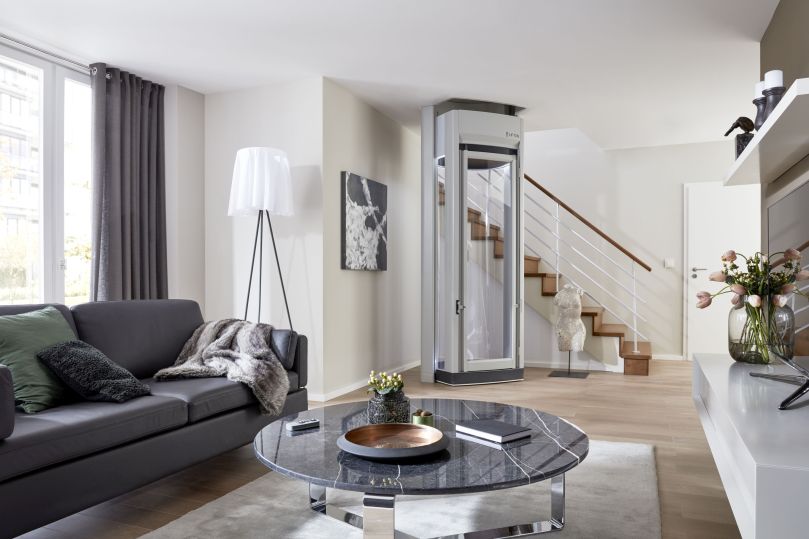 Client: Compact Home Lifts Australia
Service: International SEO

The Background: Compact Home Lifts is a specialist in the supply and installation of a range of unique domestic lifts throughout Australia. The products are elegant and sophisticated lifts, discreet to install and an attractive and practical alternative to the old-fashioned stairlift. With people living longer, the Compact Home Lift allows people to stay in their homes long after mobility might have traditionally become an issue. These cleverly designed, capsule-shaped lifts also off er younger homeowners a way of future-proofi ng their properties and provide a simple and easy way of moving between floors.
The Challenge: The overall challenge was to grow the business, generate more sales, and drive qualifi ed leads through the website. Although the in-house team had a fully integrated marketing plan in place, Compact Home Lifts had a problem with their website not ranking highly on Google searches, meaning customers were being driven to competitors' sites. The immediate challenge to the business, therefore, was to get the company website to Page One of Google for the most popular keywords related to home lifts. This would help increase organic traffic to the website and drive qualified leads through to the company's sales teams.
The Solution: SCS Marketing & PR carried out an on-site analysis of the current site and used the findings to develop a robust SEO programme specifically tailored to Compact Home Lifts. Focus was placed on Google's Best Practice SEO Guidelines which allow the search engine to most efficiently find, index and rank a website. As the first fundamental step, SCS thoroughly reworked the site, populating it with meaningful and relevant keywords and re-writing and optimising the site's metadata. Working alongside the incumbent website design team we created landing pages that would be useful to the user
and create a fluid and helpful customer journey through the website.
As a second stage of the SEO programme we produced regular blog content as a means of providing a fuller response to 'frequently asked questions,' a comprehensive link building campaign, and relevant third-party publishers for high-authority links. We also created content which offered consumers insightful information about Compact Home Lifts, its products and key issues such as different Government funding options available, as well as a range of lifestyle editorial-based content around how a home lift can create personal freedom and independence.
The Results: The Compact Home Lifts website ranks #1 on Google for all of its primary keywords. Since starting work with Compact Home Lifts, SCS has increased organic traffic to the site by a monthly average of 7,700 per cent, resulting in thousands more visitors viewing the site every month. In spite of many hundreds of algorithm updates throughout the time that SCS has managed SEO for Compact Home Lifts, the credibility and popularity of its website has meant that it has sustained a solid position in the search engine rankings pages, continually driving website traffic and sales.
If you would like to find out more about how SCS Marketing & PR can help develop your SEO, we would love to hear from you. Please complete the contact form or call us today on 01252 621293.