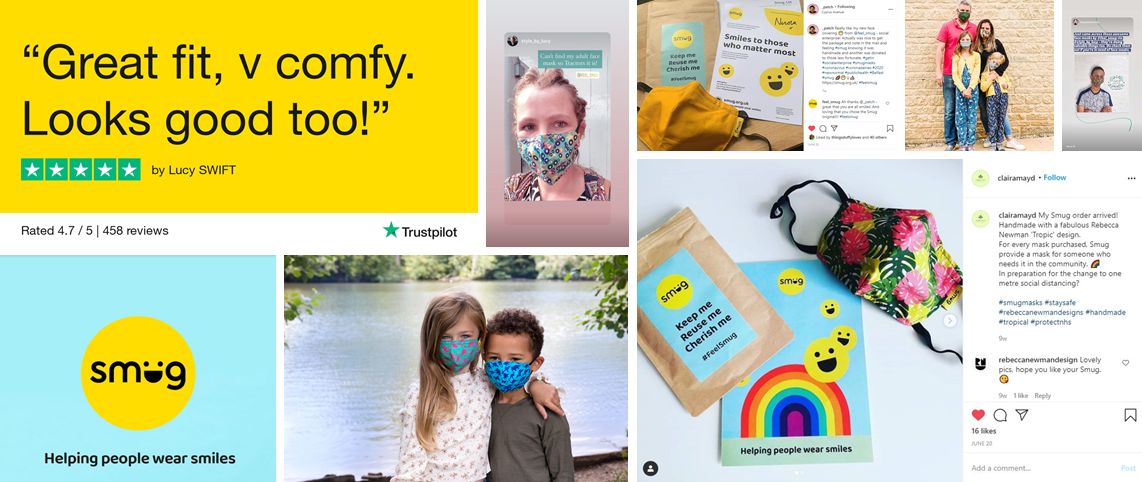 Client: SMUG
Service: Social Media
The Background: Smug is a social enterprise making facewear fun. Using boutique designs, printed on quality fabrics and handmade in the UK, for every qualifying order, Smug donate a facemask to someone who needs it. Full of personality and a great flow of orders through the website, Smug was looking for an PR and social media agency to raise brand awareness using Instagram, Facebook and through the traditional PR channel.
The Challenge: The biggest hurdle for Smug was to establish the brand in the already crowded UK face coverings marketplace. SCS Marketing & PR was appointed to help create brand awareness, grow traffic to the e-commerce website and also attract distributors and retailers to stock the products.
The Solution: SCS Marketing & PR devised a PR strategy and social media strategy which would target both consumers and trade professionals. It is paramount a manufacturer can deliver on its claims and this is especially true where a social enterprise is concerned. Therefore, we worked in close collaboration with Smug to elicit the brand's best success stories.
It quickly became apparent that Smug products were extremely high quality and were reducing waste as they were washable and long lasting. SCS worked on collecting testimonials from delighted customers who had experienced the difference in quality and who bought into the brand due to its social ethos.
SCS also recommended several tailored distribution lists, formulated press releases and made recommendations on compelling imagery all tailored to appeal to individual readership of our target publications. At the same time as producing a strategy targeting the B2C press, SCS created a comprehensive PR campaign targeted at the B2B press to raise the brand profile of Smug amongst distributors and retailers and ultimately to encourage them to stock the product range.
Hospitality seemed to be a growth area with well-known brands fronted by TV celebrities such as Hugh Fearnley–Whittingstall at River Cottage taking receipt of a line of Smugs for staff. With this bringing trust and credibility to the brand, we recommended building up and out from this flagship case study to drive even further growth in the B2B channel.
The Results: As a direct result of our PR and social media strategy, social media became one of the largest digital marketing channels to deliver high quality traffic to the website with an outstanding increase of 698% in month one. We were also delighted to see several high profile influencers getting involved, and as the strategy rolled out, followers grew by 160% and brand reach was up 218%. The user generated content as part of the content strategy we proposed, received 65% more engagement than all other content previously posted to date.
If you would like to find out more about how SCS Marketing & PR can help develop your social media programme we would love to hear from you. Please complete the contact form or call us today on 01252 621293.